Compiling
Elements has a state-of-the-art compiler and tool chain (EBuild) that is not only written completely in managed code, but also in 100% Oxygene and compiles itself. Because the compiler is 100% managed, you can run the command line compiler almost anywhere where .NET and Mono can run — including in your ASP.NET websites, and on Linux and macOS.
But the real power of the modern Elements compiler comes out when used inside the IDEs, where several of its special and more advanced non-language features come to shine.
Inline Errors
Elements's "Inline Errors" feature directly and visually connects your code with the errors and warnings it may generate — may they be few and far between.
Problems will be highlighted right inside the code editor, with red (error) yellow (warning) and green (hint) markers that show you the exact location of the issue and a short and precise description. Oftentimes, errors are linked with helpful secondary error locations (such as the original occurrence of a duplicate identifier), and Error Ranges are drawn to help you figure out which part of, say, a complex arithmetic expression is causing the problem.
Fix-It and Auto-Fix-It
Many code problems have a clear and obvious fix — a missing semicolon, a misspelled identifier, a type from a namespace that is not in the uses clause. When that is the case, Elements's Inline Errors shows an additional "magic wand" icon, and clicking the error message will bring up a Fix-It panel that lets you easily fix the issue with a single click — without having to touch the code yourself.
What's more, Elements can offer to fix code problems automatically for you as you hit compile, if they are safe to fix. This is incredibly helpful when used in combination with Oxygene's optional "Warn on Case Mismatch" option, or the already case sensitive RemObjects C# and Silver.
Of course this feature is optional, and we only offer it for issues that are 100% safe to auto-fix.

Treat Fixable Errors as Warnings
The compiler can also go a step further and let you "ignore" any code errors that the compiler knows how to fix. This way, when you make a quick code change and press "Start" just to see you mistyped a name or missed a semicolon, your app will still compile and run. The code error will still be there, and you will want to go in and fix it eventually, but at least you did not waste precious time in your debug/change/debug-again cycle.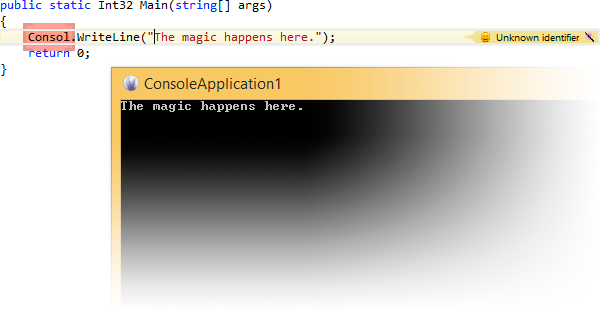 Gendarme
We also have integrated deep code analysis for .NET into Visual Studio. Based on the open-source Gendarme engine, Elements will analyze your .NET executables after they have been built, and report on a wide range of "code smells" and common coding problems that can't be found by a regular compiler.
You can control the level of analysis via project options — maybe starting out with a light check for serious problems, and later expanding to cover more and smaller issues.

Gendarme integration also makes use of Elements's Inline Error reporting, so you will see its warnings right inside the code editor, marking the relevant lines of code blue. Clicking Gendarme warnings also provides the option to fix problems for you (where available), or to ignore specific warnings, should you ever see false positives.
(Because Gendarme is based on examining .NET assemblies, it is only available for .NET and Mono projects, and does not cover Cocoa or Java applications.)